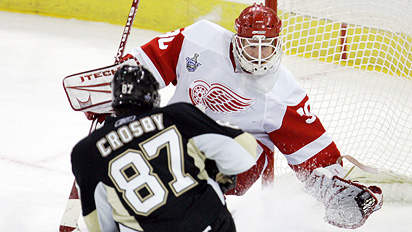 Discussed a bit...
http://www.thehockeynews.com/articles/16472-THNcom-Playoff-Blog-Osgood-for-the-Hall-of-Fame.html
"The fact is Chris Osgood, 35, will amass more than 400 regular season wins in his career. The only other netminders who have surpassed that total and aren't honored members are still active – Ed Belfour and Curtis Joseph. Belfour is a shoo-in for induction; Cujo is more of a longshot.
...
As another colleague asked: "Other than Ken Dryden's brilliant run in 1971-72, what's the difference between Osgood and Dryden? Dryden won all those Cups, but was only facing 18 shots a night."
One difference is perception and Osgood - whose career wins total (363 and counting) and GAA of 2.43 is better than a good handful of his masked brethren who've already been inducted - can't shake a reputation forged around a few memorable, soft goals.
...
Maybe this is where he gets the Mike Gartner treatment. Gartner, a fabulously consistent player over the course of his career, was inducted in 2001 having never won a major individual award."
http://www.kuklaskorner.com/index.php/psh/comments/osgoods_hall_of_fame_case/
"
10. Is he the best player at his position who is eligible for the Hall of Fame but not in?
No. In the comments of one thread I once listed ten goalies better than Osgood who are Hall of Fame eligible. There are other goalies that could have made the list as well. Players like Vachon, Barrasso, Moog and Mike Richter are definitely better goalies who are Hall of Fame eligible and are not there. "

http://hfboards.com/showthread.php?s=326c5f94584a28d2c88e2a152e22df4e&p=19713010#post19713010
What happens if Detroit wins this year, again, and he comes out with 4 Stanley Cup rings (three as a starter)? Give him another season or two of playing, and by pure numbers he's in top 5 ever... but, that's probably not enough to go on... I'm 70-30 he gets in eventually if he wins again this year. 50-50 if not... 3 rings as a starter, with all the numbers where they should be is hard to ignore.