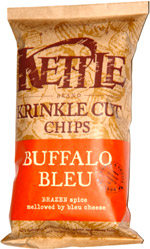 http://www.dallasnews.com/sharedcontent/dws/fea/lifetravel/stories/DN-nf_winepanel_0826gdWEB.State.Edition1.21d35a0.html
We tasted 19 wines priced less than $15 to go with a range of flavored chips – from salt and pepper to arrabiata. We started with eight flavors of chips and chose two for their versatility with wines. Coincidentally, both were from Kettle Chips: Salt & Fresh Ground Pepper, and Buffalo Bleu. We rejected chips from several other brands for a variety of reasons: too bland, too sweet, too overpowering, or frighteningly fake-flavored.

WINES THAT GO WITH KETTLE BUFFALO BLEU CHIPS
2008 Borsao Red, Spain
($6.99 -$8.99; World Market; Central Market; Big Daddy's; Centennial in Richardson; Whole Foods Market in Plano)
This fruity blend was the star of the show – and a bargain to boot. "It enhances the spiciness of the Buffalo Bleu," said Tidwell. "It's yummy, complex and mouth-coating," said Pinnell. "The fruit really pops out and complements the spice." At press time, this wine was selling fast. Another shipment from Spain is due this fall.
(via Gizmodo)



Update: What is your Kettle flavour quiz (thanks Kari). If you're not doing anything this afternoon, like me, might as well...

http://www.kettlefoods.com/fun-stuff/whats-your-flavor

I'm New York Cheddar with herb. Go on, think about it.