Tuesday January 26th. Because we had only a short trip to Las Cruces planned for later that day we were able to spend most of the morning walking around the Santa Fe Plaza, along with some breakfast at
Tia
Sophia's
, which was
pretty good
. I think we came in with high expectations for our first real taste of authentic Mexican, and it came highly recommended. I must admit I was a bit disappointed when I asked for hot sauce and they brought me a bottle of Tabasco.
Anyway, off in the morning to explore... maybe we should have eaten at "Ze French Bistro" adjacent to our hotel...
Ah, the Loretto Chapel, home of the "Miraculous Staircase". The short story goes that these nuns built a Chapel for themselves back God knows when, but never really connected the first and second floors (
huh?
). So, instead of using a ladder,
or building a staircase
, they prayed for 9 days and nights until finally some dude, let's call him Joseph, came by with his carpentry tools and built them a staircase
in a few days
. The staircase was made even more special because it appeared not to have an inner, central support. Moreover, no nails or screws!
This doesn't seem at all believable. In fact, it kinda sounds like a scam, no?
From good old, trustworthy
Wikipedia
: More recent studies show that there is very little that is "miraculous" about the staircase. It is arguably unsafe since its helix shape makes it oscillate just like a very large spring. The railing, too, was a subsequent addition (
Phillip
August Hesch). As to its apparent ability to stand without a central support, this argument proceeds on a faulty premise that
all
spiral staircases need a central support. In fact, they do not, and lateral or outer supports work just as well. However, this staircase does have a concealed central support, an inner wood stringer of a very small radius that, because of its small size, functions effectively as a central pole. This technique is well known. The staircase also has an additional outer support to one of the columns that support the loft. The staircase is made of spruce, but insufficient sampling makes it impossible to conclusively affirm (or deny) the source of this wood.
Anyway, it cost $3 to see this thing, so, deciding to skip it and the "Inn and Spa at Loretto" next door, on we go!
Walking around the Plaza, some fine Polish folk art (??) was available. Miraculous.
The Cathedral Basilica of St. Francis of Assisi
. Built in 1610, replaced in 1630, destroyed in 1680, rebuilt in 1714, rebuilt again in 1887, straightened in 1967, elevated to a Basilica by Pope Benedict XVI in 2005. There is a lot of history here. The only part of the original church still existing is the small adobe chapel dedicated to Our Lady La Conquistadora. Brought from Spain in 1625, the statue is the oldest representation of the Virgin Mary in the United States.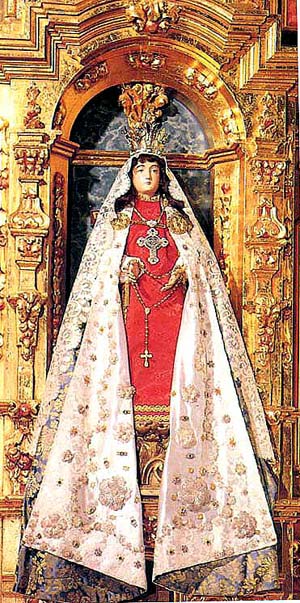 The original was not on display.
Moving on, we explored the Plaza a bit more, and Adam bought a gift or two from some of the local vendors. Well, maybe not that local; apparently this dude came in from about 2 hours away.
More park benches.
Americans and their bumper stickers!
So, back on the road.
From Santa Fe to Las Cruces it's a scant 458 km, or about 4.5 hours.
We decided to stop on the way in "Truth or Consequences"; with a population of around 8000, it's essentially a hippie town looking for tourists.
Originally named
Hot Springs
, the city
changed its name
to
Truth or Consequences
, the title of a popular
NBC
radio program. In
1950
,
Ralph Edwards
, the host of the radio quiz show
Truth or Consequences
announced that he would air the program from the first town that renamed itself after the show. Hot Springs, NM won the honor. Ralph Edwards came to the town during the first weekend of May for the next fifty years. This event was called "Fiesta" and included a beauty contest, a parade, and a stage show. The city still celebrates Fiesta each year on the first Saturday of May. The parade generally features area celebrities such as the
Hatch
Chile Queen. Fiesta also features a dance in Ralph Edwards Park.
Ladies and Gentlemen, I give you Truth or Consequences City Hall:
Wait, this is it:
Back on the road, skeletons in the sky.
So, we made it into Las Cruces, and went through their "downtown area".
View Larger Map
Yeah. Not much there. At all. No one walking, and with restaurants and hotels all spaced just far enough to need to drive to we had our first mini-panic moment of the trip.
After doing a bit searching (apparently the local University hangout is a coffee shop called
Spirit
Winds
, which is, of course, driving distance from the University), we started to do a bit of internet / Lonely Planet reading, we decided to try Mesilla, which is apparently a stones throw away.
View Larger Map
And we lucked out! Mesilla is pretty awesome! For now you'll have to trust me, as morning exploration pictures are on the next update...
So, before booking our hotel room for the night in and around Mesilla, we decided to go to dinner.
Chope's
, which was good, and better than Tia Sophia's. About 25 miles south on highway 28 in the town of La Mesa (drag down Hwy 28 above, if you like.. ), it was a fantastic meal, although again, it could have been spicier. Jays hat sighting in there as well.
There was a bar just across the way from the restaurant, but seeing as we didn't have a hotel room, and we had our car, we booted it back up to Mesilla, and the local Days Inn.
So, it must have been somewhere around 11pm at this point. Maybe later. We go to the front desk and asked to get a cab to the Old Mesilla Plaza. The dude at the desk hands me two cabbie cards. I call the first guy, and he reports that he scored a long trip to Albuquerque and wouldn't be available for the rest of the night. He gives me a number to call for another cab, which, curiously, turns out to be the same number on the second cab card given to us by our fine concierge. Giving this second dude a call, he tells us he'll be around in about 20 minutes and he'll call to our room when he gets there. We go back to our room, and yeah... the phone doesn't work in there. So, after splitting a tall boy of Coors Light, we hang out in the lobby for a bit.
After about 15 minutes he comes by and apologizes for the delay. See, apparently there are only two cab drivers IN ALL OF LAS CRUCES. This is a town of almost 100,000 people, serviced only by two cabbies. Everyone drives down here it seems... pretty much no matter the circumstances...
So, instead of Chope's bar, we hit up this bar:
El Patio. One year it apparently made Men's Journal top 50 bars in America. Or, the owner just put up this picture. I don't really feel like fact checking.
As described over at
Wikitravel.org
,
"
El Patio, Old Mesilla Plaza
, _The_ Bar in town. Live Music. Unique smell. "
Whateves. Again, it's not always the places you go, but it's the people you meet. We happened to crash a birthday party there, and had a great time. And no, the bar didn't smell at all; highly recommended when in Mesilla/Las Cruces.
Here are some pics taken by our Las Cruces friend Cindy!:
And one with the birthday girl!
So, about 1:30am I call up our cabbie friend figuring it'll take at least a 1/2 hour for him to come by. JUST after 2am, after the bar keep threatens the entire bar with a taser, we're on the sidewalk - yes. Our pals, seeing as the cabbie was probably not coming, graciously offered us a ride back to the Days Inn.
Mesilla, you rock. Tomorrow we'd be getting up a bit earlier than usual as it would be our longest driving day, accentuated by a very out of the way detour. However, we would see us some white sand desert, a "take pictures only in that direction" missle range, drive up to almost 9000 feet, eat some bbq, drive along the Mexican border, and make it through most of Texas at night without a license plate.
See part 2 here
.
See part 1 here
.